Ice Cream Sandwiches Recipe. Sugar Cookies
Ice Cream Sandwiches are a breeze!
Once you make Sugar Cookies, your blank canvas is laid out: ice cream sandwiches waiting to happen!
Good news: Any of you enjoyed the gorgeous day yesterday and admired with me the luscious looking blossoms and flowers in the Park will easily agree with me: After several false starts, Spring is finally here! This  means a lot of lovely things, one of them being ice cream! If there are some uncool (just couldn't resist the pun!) people not crazy about ice cream, we haven't met them, or simply don't frequent them!
I don't go into making my own ice cream, sorry guys.
I believe we have lots of excellent premium brands to choose from. Rather, what I love to do is, combine plain ice cream flavors and build them up for a larger preparation, as in my Ice Cream Cake, or Frozen  Coconut Crunch Chocolate Cake. Or, more simply, as in this unpretentious sugar cookie ice cream sandwiches.
Ice cream sandwiches start with perfect Sugar Cookies!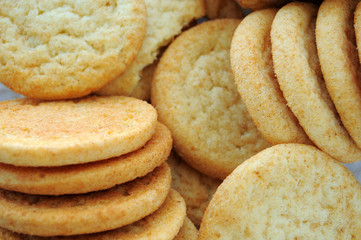 All I do is, make delicious Sugar Cookies, and sandwich them with any good ice cream or sorbet, freeze them until serving time. All kids big and small, including all gluten-free friends, get ready for the treat! No problem making gluten-free sugar cookies, just use your favorite gluten-free flour or flour mix!
Straight from my latest cookbook, The Whole Foods Kosher Kitchen.
Children never seem to tire of this treat. Tapioca flour gives the cookies their ethereally light texture. They are bland, in a delicious way, and lend themselves to lots of playing and decorating: This diehard baker hates all frills, so I will just suggest brushing the tops with egg wash (egg mixed with a little water); topping with sprinkles, coarse sugar, and tiny chocolate chips just before baking. Or flavor the dough with cinnamon, ginger, cardamom, lemon zest, etc. (1 to 2 tablespoons, 1 flavor at a time). Get fun cookie cutters to celebrate any time of year!
Ingredients
2 eggs (only if you are restricted: use ½ cup flax mixture, page 276)

¾ cup sugar

½ cup oil

¼ cup orange juice or water

1 teaspoon vanilla extract

1 teaspoon baking powder

½ teaspoon salt

2 cups flour: all-purpose, whole wheat pastry flour, spelt flour, or gluten-free flour

1 cup tapioca flour
Instructions
Preheat the oven to 375°F. With an electric mixer at high speed, or in a food processor, mix the eggs, sugar, oil, juice or water, and vanilla until light and fluffy. Reduce the mixer speed to low ; add the baking powder, salt, and flour; and mix one more minute until well blended (or add to the food processor, making sure you use the pulse button and pulse only until combined).
Divide the dough into 4 pieces. Roll out each piece on a very lightly floured surface about 1∕8 inch thick, making sure the thickness is even so they bake evenly.
Using assorted cookie cutters, cut in different shapes. Place the cookies on a parchment-lined cookie sheet.
Bake 8 to 10 minutes until crisp and golden.  Store in an airtight cookie tin.
Ice Cream Sandwiches
Spread your favorite ice cream or sorbet on one sugar cookie, and top with another cookie. Repeat with as many cookies and ice cream as you like. Freeze until serving time.