Cheese Cheese Cheese. Natural and Kosher
I'm a cheese fiend, all resolutions for restraint notwithstanding.
This morning I received a message from Chani Vogel, who with her husband Moshe manage Kosher and Natural Cheeses, requesting I sample some of  the cheese products from their line. Next thing I knew, when I got home a couple hours later, an enormous and gorgeous basket was waiting for me at my desk, which had the desk attendant scratching his head: "Seems to me it is not the time when you people get lots of gift baskets. Do you have more than one of those holidays a year?" he asked. Ha! no we don't, but Moshe and Chani almost had him, and me, fooled: Sure did look like Purim: Just take a look!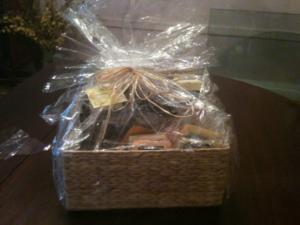 I confess I didn't heed my own customary urging to my readers and my demo students, which is to please please please NOT sample anything new and delicious when you are hungry. Instead I armed myself with a knife, ripped a few of the cheese packages and started cutting slivers of everything. I went on a mini cheese rampage. Pretty soon I took out some good crackers, and for good measure, poured myself a glass of wine: This will just have to be dinner, I told myself most emphatically (I did keep this promise, so rah-rah!), not only for me, but for my husband, another  lover of the occasional cheese splurge: He had me cut his cheese into small chunks for his salad-dinner, which I dressed in a Dijon Mustard Vinaigrette: Yum!
I am usually most weary of "assembled" cheese
That is, cheeses with additions to them. So I was all the more pleasantly surprised when I tasted the delicious Cranberry Pecan Chevre, and the Olive Cheddar (Any way they can correct the spelling on the label would be nice and professional: the correct way is Olive Cheddar, not Olives Cheddar). The plain cheddar is nice and strong, which is always a great plus with any cheese, as it means a little goes a long way, and you will use less of it. I might just use it this Sunday to make my famous Cheddar Dill Scones. Maybe they will come out with an extra strong cheddar too? There's a tray of neatly packed assorted sliced cheeses: Cheddar, Mozarella, Kashkeval, Pepper Jack and Muenster. American cheese: Umm, sorry, this health nut just doesn't do American cheese….. There's a lot more in their line: the grated cheese melange is what I used on a homemade pizza this past Shavouos, and it was fabulous.
There's another thing I loved about Natural and Kosher Cheese line:
Their packaging is a marvel: Eat what you can (OK, maybe a little less!) and zip up the rest of the package for the next treat, for maximum freshness. Lots of their cheeses come in chunks too, which is always my first choice, as in my opinion this is what keeps cheese freshest. Another great news is, all cheeses in their line are natural and rennet-free, and are minimally processed.
Any day now, Moshe and Chani will be adding to their line those harder-to-find cheeses we are all pining for: Brie, Bleu, Camembert. I'll bet they'll make lots of people happy! Meanwhile, keep smiling and say CHEESE!
https://y6hc6e.a2cdn1.secureserver.net/wp-content/uploads/2011/06/photo12.jpg?time=1685538823
225
300
Lévana
https://y6hc6e.a2cdn1.secureserver.net/wp-content/uploads/2016/03/logo-with-levana-300x96.png
Lévana
2011-06-24 09:06:30
2017-11-27 00:16:08
Cheese Cheese Cheese. Natural and Kosher