Spaghetti and Meatballs Recipe: Gluten-Free Friendly, and Kids-Friendly!
Spaghetti and meatballs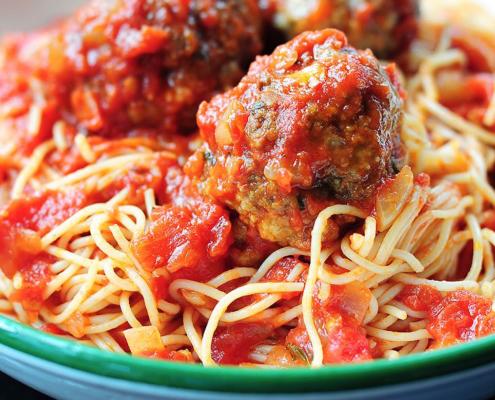 One of the best comfort foods, for kids big and small.
Who doesn't love spaghetti and meatballs? We all used to pile into my mother-in-law's small apartment for her famous spaghetti and meatballs, and always lied to her that somehow ours didn't come out as good as hers: Anything to have her make a vat of it, which would disappear in minutes. All the children in our family still clamor for it and feed it to their own children. So what was my mother-in-law's secret ingredient besides being so lovely and fun that we used to invade her house regularly? Cranberry sauce, that's what! You will find very good brands in health food stores, minimally processed, with none of the offending corn syrup.
Do not hesitate to experiment with low- or no-gluten noodles such as rice, soba, quinoa noodles, as I do: delicious and much gentler on your system! You will be able to have pasta more often. It's been years since I last had wheat noodles, and I don't miss anything about them one bit, least of all the bloating and discomfort that used to follow each white pasta meal as surely as night follows day.
Ingredients
Sauce:
2 cups water

2 large cans crushed tomatoes

1 small can tomato paste

1 15-ounce can natural jellied cranberry sauce

2 tablespoons oregano

½ teaspoon red pepper flakes

2 tablespoons cinnamon
Meatballs:
1 medium onion

1 bunch parsley

¼ cup olive oil

Salt and pepper to taste

½ cup warm water

2 pounds ground turkey, chicken, or lean beef

2 eggs (avoiding eggs? Mix 2 tablespoons flax meal with 1/3 cup warm water)
1 pound cooked spaghetti or rice noodles (these need only be soaked in hot water and drained)
Instructions
In a wide-bottom, heavy pot, bring all the sauce ingredients to a boil.
Meanwhile, grind the onion and parsley in a food processor until smooth. Transfer to a bowl with all remaining meatball ingredients and mix thoroughly by hand. Form balls with the mixture and throw them in the hot sauce liquid as you go. When you have used up all the meat mixture, reduce the flame to medium low and cook covered for about 1½ hours. Serve hot over the noodles.