Carrot Cake: Our Award Winning Recipe
Carrot Cake: Our award winning Recipe:
Me, my sister Lea and my husband Maurice.  Circa 1979, selling our famous carrot cake at a Central Park Fair. We sliced until we dropped.
Our Post-Woodstock Pre-Chassidic days. You like? I remember cutting a slice of carrot cake for Bianca Jagger, Chi Chi Williams and many other Celebs!
Our award-winning carrot cake, circa 1979. Voted Number 1 in New York magazine: We made the news in the papers the same week Papa Bush became President. You never forget things like that, right?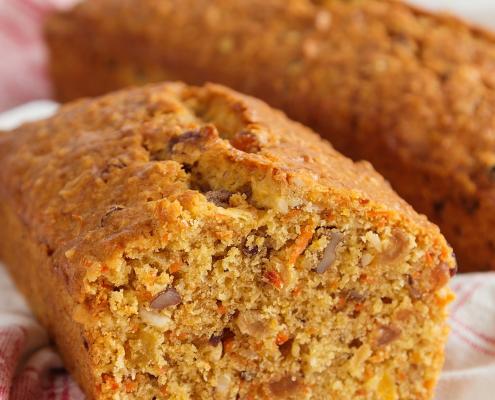 Ideally moist and fragrant.
I believe all old timers at Levana then-Bakery remember it well. My mother used to get such a kick out of this recipe. She would ask, "Why not a turnip cake or a tomato cake, while you are trying to be creative?" She didn't know she was on the right track: We also make delicious  pumpkin cake and zucchini bread, and other vegetable-based baked treats. A piece of wholesome homemade cake is good for you:  the trouble start only if and when you put frosting and icing and whatnot on top: I ask you: Who needs it?
Repeat after me: Carrot Cake Sans Frosting: Delish!
Ingredients
1 ½ cups sugar

4 eggs

1 cup vegetable oil

3 cups flour, all purpose, whole wheat pastry or spelt

1 ¼ teaspoons baking soda

pinch salt

1 teaspoon cinnamon

½ teaspoon ground cloves

1 cup canned unsweetened crushed pineapple

3 cups finely grated carrots, packed (use a food processor)

½ cup raisins, dark or golden

½ cup coarsely chopped walnuts (skip if you can't have nuts)

1 cup unsweetened grated coconut, optional but really good
Instructions
Preheat the oven to 350*F.
In a food processor (OK to use a hand mixer, or even mix by hand), beat the sugar and eggs until light and creamy. Add the oil and beat, a few pulses. Add the flour, baking soda, salt, cinnamon and cloves, and mix for just a few pulses. Transfer the mixture to a bowl. Add the crushed pineapple, carrots, raisins, walnuts and coconut, if using, and fold in with a wooden spoon until just well combined. Pour the batter into a greased 10-inch springform pan or tube pan. Bake for about 1 hour or until a knife inserted in the center of the cake comes out clean. Unmold onto a cooling rack.