Potato Latkas Recipe. Kugel Variation
Potato Latkas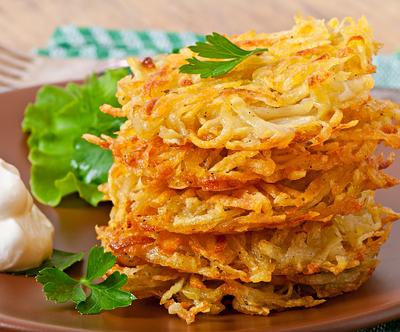 Here comes the great classic!
I have written at great length about potato Latkas and all other latkas. I am including here the most basic recipe, and I am including all links to my latka-centric recipes.
Please start by reading my post about my Frying Tips:  Fear of Frying Therapy; You will be amazed how easy and delicious it becomes to enjoy occasional fried treats, on Chanukkah and beyond. That's the best part: Once frying doesn't scare you any  more, you will enjoy it more often!
Potato Latkas Without Commotion!
Forgive me for getting very impatient about some Latka recipes I see: put the shredded potatoes in ice water? Then put them in a cloth and squeeze out all the moisture? There's no way I would consider such a high maintenance recipe. My trick is, quite simply, tried and true common wisdom pointers:
Put all your ingredients in a bowl except the potatoes, and mix thoroughly
Get everything ready for frying before you grate the potatoes: your oil, your tray, your absorbent paper napkins, your peeled potatoes placed in bowl with cold water.
Lastly, grate the potatoes. In a food processor, please. I know I know, you might hear that grating by hand with a box grater is the best ways, but all that accomplishes is, giving time to the potatoes to oxidate and turn that horrible brown color and develop that horrible metallic taste. Food processor, I tell you. Grate them in a jiffy, and add them as quickly as you can to the other ingredients.
When you add the grated potatoes to the mix, do not close your hands on the ingredients and squeeze, or you will extract much unwanted moisture. Keep your hands open wide, fingers parted, and combine quickly and thoroughly. Likewise, when you shape the Latkas, do not squeeze!
While you fry the Latkas, a little dark liquid might pool in the bottom of the bowl. That's normal. Ignore it and keep going!
Potatoes Latkas in Kindergarten!
I'll be making them in my granddaughter's classroom next week! Bubbie and Baby can't wait! She called me yesterday and was squealing with delight that Morah Berenice invited HER bubbie to cook with the pitzels. We take our claims to fame wherever we can get them, OK? I have made my potato latkas on TV shows many times, so I hope to pass the Pre-K test!
In addition to adding some delicious fried treats from around the world, you will learn a thing or two about frying safely and efficiently, even for dessert!
Potato Latkas: Basic Recipe
This has always been the great favorite, but scroll on: You will be amazed how many kind of latkas you can make: A different latka for every night of the week, and then some!
Potato Kugel:
Scroll down, it's all here! You didn't think I was forget the great weekly favorite, did you? This kugel recipe is the only one you will ever need.
Nothing but nothing beats homemade apple sauce, and there's nothing to it!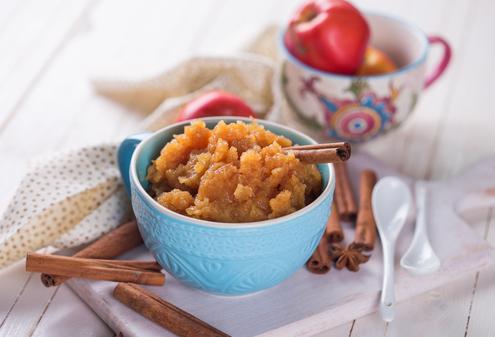 Freezing and Reheating Latkas
This is about freezing and reheating. If you are entertaining a large group, it won't be enormous fun spending the afternoon frying while everyone is having a good time. If you must fry in advance, follow all the above guidelines, but fry each item until it is ninety percent cooked through, no more. Store it in a shallow pan in one layer. You can also place the latkas in the pan vertically, like a deck of cards; you will be able to fit quite a few in a pan in this position (again, one layer). Cover tightly. Refrigerate or freeze, depending on how long in advance you are preparing the dish. Reheat uncovered, at about 350*F, for fifteen to twenty minutes if it was frozen, until golden and crisp.
Latkas International:
These are just some of my favorites! See how we do exciting fried treats in other parts of the world! All equally delicious and fun.
Frying Tips: Fear of Frying Therapy
Millet Fritters with Green Goddess Sauce
Cornmeal Blueberry Yogurt Pancakes
Ingredients
Oil for frying

1 cup flour, any flour including gluten free

4 eggs

1 large onion, grated very fine

Salt and pepper to taste

8 large potatoes, grated very thin for smooth texture, or coarser for crunchier texture (love me some crunchy latkas, so I use the coarse shredding blade)
Instructions
Heat the oil in a heavy frying pan (about 1/3") until very hot.
Mix all ingredients except potatoes in a bowl and mix thoroughly. Add potatoes last. Work very quickly so they do not get time to get discolored. Form small patties and throw in hot oil, or drop by tablespoons. Fry till golden, about 3 minutes on each side. Take out and drain on paper towels. Best served immediately after frying, with apple sauce, sour cream or yogurt. If you must make them in advance, reheat uncovered at 300 degrees for about 15 minutes, till hot and crisp.
Potato Kugel
What is Potato Kugel, if not a giant baked latka?
Preheat the oven to 375*F. Use same ingredients as above (Passover: use potato starch, tapioca or coconut flour), omit the oil for frying, and add 1/2 cup oil to the batter.
Bake in a greased 9x13 pan for about 40 minutes, or a little longer, until golden.