Applesauce Recipe. Homemade, Easy and Fabulous!
Homemade Applesauce?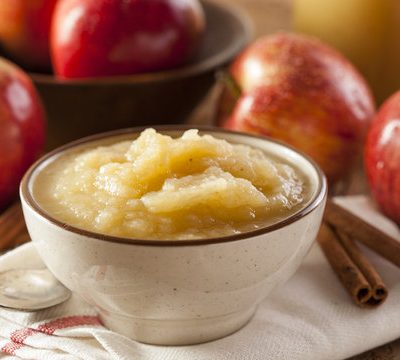 Sorry, no relation whatsoever to its commercial counterpart!
Until just last week, which is just before we hosted our annual Simchat Torah Party, if the idea of serving applesauce to guests had entered my head, I would have been worried about my culinary creativity coming to a screeching halt. But here's what happened:
Apple Overload: Good problem!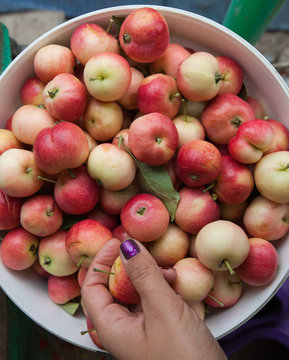 I cooked and baked up a storm for a party. Then I turned my attention to an enormous overflowing bag of crab apples our super Gary left at our door as a souvenir from his weekend home in Pennsylvania. I had been tinkering with them for several ways, made apple chutney and gallons of apple liqueur. But I had somehow thought applesauce beyond baby food or latkas topping was somewhat naive and childish, or worse, vaguely geriatric. I also remembered the day a decade ago, after my then future daughter in law Ruthie politely turned down an apple dessert I had just made. She said she hated all cooked fruit; to which my son Maimon told her: "You'll see when you are in the nursing home: You will love applesauce!"
Applesauce on the Dessert list, please!
Here I was faced with a mountain of perfect apples, and very little time for tinkering. All right then, I thought, I will force myself to eat a bowl of it every day to atone for all the holidays' delicious excesses, savory and sweet. But as soon as I tasted the finished sauce, I found it so delightful I decided to make it part of the desserts I would serve at my party, to go with my Latkas and many other goodies. By then I was not even surprised when I saw every guest big and small rave about it, and take seconds and thirds. My humble applesauce had just upstaged all other fabulous desserts I had displayed. You go, applesauce recipe!
So here's what I did
No recipe in the strict sense of the term, all according to your personal tastes. I used a wide bottom stainless-steel pot, and threw my apples in, whole, skin and all. There must have been a good 6 pounds. I added about 6 cups pomegranate juice, just to make sure I get a luscious red color. Of course, you could use unfiltered natural apple cider instead. Then, I added a scant cup sugar (even this sugar, i would eliminate if the apples are really nice and sweet), 6 cinnamon sticks, 2 tablespoons vanilla extract. After it came to a boil, I reduced the flame to medium, covered the pot and cooked about 15 minutes, only until the fruit was soft. Then I threw everything in one of those 99-cents plastic strainers with large holes, which I placed on top of a large bowl, and pressed hard on the solids. Pretty soon all I had left in the strainer was peels, cores and seeds. The sauce was in the bottom, more than a gallon of it, looking luscious, chunky and thick. It will thicken further as it cools, with apples' natural pectin.
But suppose there was a limit to how nice Super Gary can be, or to how many apples his trees yield, and you might have to get your own apples to make your own applesauce. Heaven forbid! In that case, get fragrant apples:
Mackintosh, Cortland or Rome will work great!
Enjoy your applesauce without making any excuses! Next time I find one of those magical offerings at my door, I will restrain myself and save some of the wonderful applesauce for all my children and grandchildren. And who knows maybe even Ruthie will have some! I can see it go perfectly with roast turkey or beef as well as for dessert. Fabulous with my Latkas.